Persistence does pay off in finding a "lost" relative. Unless there are just no records whatsoever, you can always find a family member.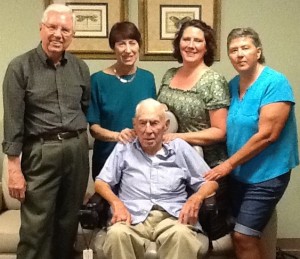 The recent and happy story goes like this (real names not given):
Jim was born in Louisiana in 1918.  While growing up, he moved with his family to a small town in Missouri. In 1940 he was working as a truck driver and married his next-door-neighbor Myrtle, who was a cook in a local school lunch room. That same year, they had a son and named him Jack.
By the mid-1940s, Jim and Myrtle had divorced. Myrtle remarried a man named Ellis in 1947 and they moved to southern California. On top of that, Ellis adopted Jack thereby changing his last name.
Jim, himself, moved around a bit and in 1949 remarried a woman named Leslie and they had a daughter named Elizabeth.  Jim, Leslie and Elizabeth moved to Alaska.
Jim last remembers seeing his son Jack in around 1974. Elizabeth never met her ½ brother.
After Leslie passed away in the late 1980s, Jim retired and moved to Colorado.  By this time, the trail was cold and neither father nor son knew where each other were.
This year, Elizabeth decided she wanted to find her ½ brother Jack. Their father, Jim, now 96 years old, also wanted to be re-united with his son. However, no one knew how to find him.  Elizabeth contacted me and I dug around and got some information and also encouraged her to go to her father's house, question him on what he could remember and also to look to see if any papers or old documents could be found.
Elizabeth made a trip to Colorado and dug around and found some old family papers that had some clues.  With this additional information, I searched through many records and old newspaper articles and finally found a living relative of Jack's named Ellen, who was listed as living in Grass Valley, California.  Fortunately, her phone number was also available!
With my fingers crossed, I gave Ellen a call. With a call to someone you don't know, you have one or at best, two chances, for them to trust you enough to help you find someone. Imagine getting a call from someone out of the blue that starts out, "You don't know me, but I am looking for a lost relative that you may know….".
Luckily, Jack himself had recently visited Ellen and mentioned to her that he had been wishing to find out what had happened to his father and ½ sister.   I gave Ellen my phone number and asked her to contact Jack and have him call me.
Jack called and I explained the story.  He was delighted to hear about his father still being alive and that Elizabeth wanted to meet him.  Jack and Elizabeth talked a few times on the phone and then made plans to meet at their father's home in Colorado.  This meeting happened just recently.
The picture you see above is of the actual people in this story from that trip. From left to right in the back row, are: Jack, his wife, Elizabeth's daughter and Elizabeth. Front and center is a happy father Jim.
I am told that Jim has a new spring and happiness in his life.
I am very proud to be part of this story. It makes the hours and hours of searching and digging well worth it.
Another family reunited!
Lisa Hamilton