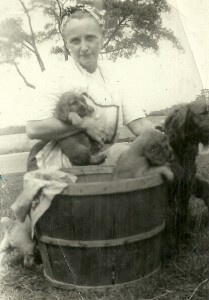 One thing is for certain, pets are part of our family tree.  No, they are not "blood relatives", but they are part of our identity.
Through history, different animals have played a close part in the lives of those they are near.  At times, a man's horse was part of his identity.  Great examples are: General Lee and his horse Traveller or Roy Rogers and his horse Trigger.
Other animals are known well, even if we can't think of or even know what family they lived with – Lassie (really named Pal – and did you know that 10 generations of Pal's direct descendants have portrayed Lassie in film and on television from 1943 – 2007?), Rin Tin Tin, Elsa the lioness from the movie Born Free and many, many faithful military or service dogs.
Every time I do a family history search I always find a photo or story about someone in the family with a dog, cat, horse or other animal they deeply cared about or who worked with them.  Even the Mayflower is said to have had a Mastiff and a Spaniel on it.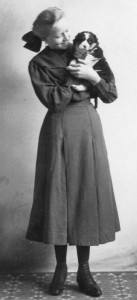 My point here is that while being an ancestry detective, you can come up with a dry story and just raw family facts or you can find your family tree full of life, love and character.
In honor of the fact that many animals have made our lives fuller in so many ways – and in order to help and protect those animals in need, I plan to work closely with several non-profit rescues and/or shelters.  I will be donating 20% of what monies I am paid from my work as a genealogist.   In fact, this has already started and the first donations have gone out.   The specific names will be revealed when I have their permission to do so.
While you find your ancestry, why not help those who cannot always help themselves at the same time?
Whether you are just looking for help to build your family tree, getting a debug as an ancestry detective or for research of your surname history – your payment to me will be shared with an animal rescue activity.
Let's work together to make a difference.