In researching family history, you often run into very interesting stories that give you a glimpse into the lives of people in the past. Such is the case with a recent family history search. I discovered one of my clients great grandmothers was convicted during the Salem witch hunts in Salem Massachusetts and was hanged. Her name was Rebecca Nurse. It turns out that 14 years later one of her main accusers apologized for wrongly accusing her of being a witch. The incredible story of Rebecca Nurse goes like this:
She was born on 21 Feb 1621, in Great Yarmouth, Norfolk, England. The daughter of William and Joanna Towne (née Blessing). Her family settled in Salem Village, (which is now known as Danvers, Massachusetts) in 1640. She had three sisters – Susan, Mary, and Sarah, and three brothers – Edmund, Jacob, and Joseph.
Around 1644, she married Francis Nurse who was also born in England. Francis was a "tray maker" by trade, who probably made many other wooden household items. Due to the rarity of such household goods, artisans with those skills were esteemed. Rebecca and her family lived on a vast homestead which was part of a 300-acre grant given to a man named Townsend Bishop in 1636. Francis originally rented it and then gradually paid it off throughout his lifetime.
Together, the couple bore eight children: four daughters and four sons. Their names were Rebecca, Sarah, John, Samuel, Mary, Elizabeth, Francis and Benjamin.
Rebecca frequently attended church and her family was well respected in the Salem Village. Francis was often asked to be an unofficial judge to help settle matters around the village. In 1672, Francis served as Salem's Constable. It was later written that Rebecca had "acquired a reputation for exemplary piety that was virtually unchallenged in the community," making her one of the most "unlikely" persons to be accused of witchcraft.
However, she was brought to trial as a witch and was hung by the neck until dead on 19 Jul 1692. Her sisters Mary and Sarah were also accused of witchcraft, with Mary found guilty and executed.
The story of how she went from being an outstanding member of the community to being convicted of being a witch during the Salem witch hunts and executed is quite incredible. Below is some of the information and for those interested, I have included the transcript of the trial below this data. The trial is written in the language of the time period and some of the spellings and statements are hard to follow, but it's very interesting reading.
Salem Witch Hunts data and the trial
The Nurse family had been involved in a number of bitter land disputes with the Putnam family during their time in Salem. On March 23, 1692, a warrant was issued for Rebecca's arrest based upon accusations made by Edward and John Putnam. Upon hearing of the accusations the frail 71-year-old Rebecca, often described as an invalid, said, "I am innocent as the child unborn, but surely, what sin hath God found out in me unrepented of, that He should lay such an affliction on me in my old age."
There was a public outcry over the accusations made against her, as she was considered to be of very pious character. Thirty-nine of the most prominent members of the community signed a petition on Rebecca's behalf. At age 71, she was one of the oldest accused of witchcraft. Her ordeal is often credited as the impetus for a shift in the town's opinion about the purpose of the witch trials.
Her trial began on June 30, 1692. In accordance with the procedures at the time, Mrs. Nurse, like others accused during the Salem witch hunts, represented herself since she was not allowed to have a lawyer represent her. Due to the respect others in the community had for her, many members of the community testified on her behalf including her family members.
One of her main accusers was Ann Putnam Jr., who was 12 years old at the time. She, along with three of her friends, Mary Walcott, Abigail Williams and Betty Parris had recently been behaving strangely – babbling, convulsing and staring blankly. They testified against Rebecca claiming that she was the cause of their afflictions. Ann's mother and father also said they were afflicted, as did others of the Putnam family. They claimed they would break into fits and that Rebecca Nurse was tormenting them. Such so-called "spectral evidence" was allowed into the trial to show that Satan was afflicting others in the community at the behest of the accused. In response to their outbursts Rebecca stated, "I have got nobody to look to but God." Many other supposedly afflicted girls were hesitant to step up and accuse Rebecca.
In the end, the jury ruled Rebecca Nurse was not guilty. However, due to public outcry and renewed fits and spasms by the girls, the jury asked the magistrate that the verdict be reconsidered. The jury changed their verdict, sentencing Rebecca Nurse to death on July 19, 1692.
Many people labeled Rebecca "the woman of self-dignity", due to her dignified behavior on the gallows. As was the custom, after Rebecca Nurse was hanged, her body was buried in a shallow grave near the gallows along with other convicted witches, who were considered unfit for a Christian burial. Rebecca's family secretly returned after dark and dug up her body, which they interred properly on their family homestead.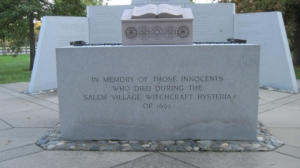 One of her accusers, Ann Putnam Jr., accused many others during the time that this witch hunt hysteria went on in Salem. She ended up personally accusing 62 people of witchcraft. Her parents Thomas and Ann Putnam also accused several dozen people as well, many of whom were enemies of the influential Putnam family. In all, over the period of almost 1.5 years that this witch hunt went on, more than 150 people were jailed for being witches. Of these, 19 people refused to confess, were convicted and hanged, 4 died while in prison and one was crushed to death for refusing to make a plea.
Ann Jr, however, did something that no one else involved with this did. She publicly apologized 14 years later for wrongfully accusing people of witchcraft. Her apology read thus:
"I desire to be humbled before God for that sad and humbling providence that befell my father's family in the year of 1692; that I, then being in my childhood, should by such a providence of God, be made an instrument for the accusing of several persons of a grievous crime, whereby their lives were taken away from them, whom now I have just grounds and good reason to believe they were innocent persons; and that it was a great delusion of Satan that deceived me in that sad time, whereby I justly fear that I have been instrumental, with others, though ignorantly and unwittingly, to bring upon myself and this land the guilt of innocent blood… .
In 1711, the government compensated the Nurse family for Rebecca's wrongful death. The Nurse family homestead fell into the hands of a Putnam family descendant, Phineas Putnam in 1784. The Putnam family maintained control of the property until 1908. Today, it is a tourist attraction that includes the original house and cemetery, on 27 of the original 300 acres.
In July 1885, her descendants erected a tall granite memorial over her grave in what is now called the Rebecca Nurse Homestead Cemetery in Danvers (formerly Salem Village), Massachusetts.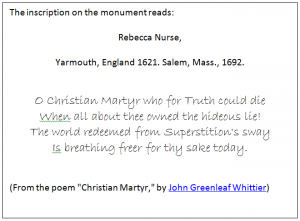 In 1892 a second monument was erected nearby recognizing the 40 neighbors, led by Israel and Elizabeth (Hathorne) Porter, who took the risk of publicly supporting Nurse by signing a petition to the court in 1692. One signer was General Israel Putnam's father.
That is pretty much the end of my data on the Salem witch hunts.  Much more information can be obtained if you search the internet. One good site is here: Salem Witch Trials.  There quite a lot of information if you are interested.
There is some other interesting information that has come to light about what could possibly have caused the "afflictions" the people of Salem were experiencing. Modern day forensic professionals have determined that the grain produced at the time in these areas contained a toxin producing chemical when it was ingested. This chemical was very similar to LSD and it would have caused hallucinations and other actions that would have lead people to believe they had been be-witched. These people were not the victims of witches, but were merely poisoned by their own bread or foods made from that particular grain or rye. Pretty wild, eh?
Here is the transcript of the trial of Rebecca Nurse. Check it out – it is quite interesting.
The Trial
THE EXAMINATION OF REBECCA NURSE, MARCH 24, 1692
(Examination of Rebecca Nurse)
Mr. Harthorn. What do you say (speaking to one afflicted) have you seen this Woman hurt you?
Yes, she beat me this morning.
Abigail. Have you been hurt by this Woman?
Yes.
Ann Putman in a grievous fit cryed out that she hurt her.
Goody Nurse, here are two Ann Putman the child & Abigail Williams complains of your hurting them. What do you say to it?
Nurse: I can say before my Eternal father I am innocent, & God will clear my innocency.
Here is never a one in the Assembly but desires it, but if you be guilty pray God discover you.
Then Hen: Kenny rose up to speak
Goodm: Kenny what do you say
Then he entered his complaint & farther said that since this Nurse came into the house he was seizd twise with an amaz'd condition.
Here are not only these but, here is the wife of Mr. Thos Putman who accuseth you by credible information & that both of tempting her to iniquity, & of greatly hurting her.
Nurse: I am innocent & clear & have not been able to get out of doors these 8. Or 9. Dayses.
Mr Putman: give in what you have to say
Then Mr Edward Putman gave in his relate
Is this true Goody Nurse?
Nurse: I never afflicted no child never in my life.
You see these accuse you, is it true?
Nurse: No.
Are you an innocent person relating to this Witchcraft.
Here Thos Putmans wife cryed out, "Did you not bring the Black man with you, did you not bid me tempt God & dye How oft have you eat and drunk y'r own damaon What do you say to them Oh Lord help me, & spread out her hands, & the afflicted were greviously vexed
Do you not see what a solemn condition these are in? When your hands are loose the persons are afflicted.
Then Mary Walcot (who often heretofore said she had seen her, but never could say or did say that she either bit or pincht her, or hurt her) & also Eliz Hubbard under the like circumstances both openly accused her of hurting them
Here are these 2 grown persons now accuse you, w't say you? Do not you see these afflicted persons, & hear them accuse you.
Nurse: The Lord knows I have not hurt them: I am an innocent person.
It is very awfull to all to see these agonies & you an old Professor thus charged with contracting with the Devil by the [a] effects of it & yet to see you stand with dry eyes when thee are so many whet—
Nurse: You do not know my heart.
You would do well if you are guilty to confess & give Glory to God
Nurse: I am as clear as the child unborn.
What uncertainty there may be in apparitions I know not, yet this with me strieks hard upon you that you are at this very present charged with familiar spirits: this is your bodily person they speak to: they say now they see these familiar spirits com to your bodily #[spirits com to your bodily] person, now what do you say to that
Nurse: I have none Sir.
If you have confess & give glory to God I pray God clar you if you be innocent, & if you are guilty discover you And therefore give me an upright answer: have you any familiarity with these spirits?
Nurse: No, I have none but with God alone.
How came you sick for there is an odd discourse of that in the mouths of many—
Nurse: I am sick at my stomach—
Have you no wounds
Nurse: I have none but old age.
You do Know whither you are guilty, & have familiarity with the Devil, & now when you are here present to see such a thing as these testify a black man whispering in your ear, & birds about you what do you say to it
Nurse: It is all false I am clear.
Possibly you may apprehend you are no witch, but have you not been led aside by temptations that way
Nurse: I have not.
What a sad thing it is that a church member here & now an other of Salem, should be thus accused and charged
Mrs Pope fell into a grevious fit, & cryed out a sad thing sure enough: And then many more fell into lamentable fits.
Tell us have not you had visible appearances more than what is common in nature?
Nurse: I have none nor never had in my life.
Do you think these suffer voluntary or involtary
Nurse: I cannot tell.
That is strange everyone can judge
Nurse: I must be silent.
They accuse you of hurting them, & if you think it is not unwillingly but by designe, you must
Nurse: I cannot tell what to think of it.
Afterwards when this was som what insisted on she said I do not think so: she did not understand aright what was said
Well then give an answer now, od you think these suffer against their wills or not
Nurse: I do not think these suffer against their wills.
Why did you never visit these afflicted persons
Nurse: Because I was afraid I should have fits too.
Note: Upon the motion of her bots fitts followed upon the complainants abundantly & very frequently
Is it not an unaccountable case that when you are examined these persons are afflicted?
Nurse: I have got no body to look to but God.
Again upon stirring her hands the afflicted persons were seized with violent fits of torture
Do you believe these afflicted persons are bewitcht
Nurse: I do think they are.
When this Witchcraft came upon the stage there was no suspicion of Tituba (Mr. Paris's Indian Woman) she profest much love to that child Betty Paris, but it was her apparition did the mischief, & why should not you also be guilty, for your apparition doth hurt also.
Nurse: Would you have me bely myself—
She held her Neck on one side, & accordingly so were the afflicted taken
Then Authority requiring it Sam: Paris read what he had in characters taken from Mr. Thos Putman's wife in her fitts
What do you think of this?
Nurse: I cannot help it, the Devil may appear in my shape.
This a true account of the sume of her examination but by reason of geat noyses by the afflicted & many speakers, many things are pretermitted
Memorandum
Nurse held her neck on one side & Eliz Hubbard (one of the sufferers) had her neck set in that posture whereupon another Patient Abigail Williams cryed out set up Goody Nurses head the maid's neck will be broke & when some set up Nurses head Aaron Wey observed that Betty Hubbards was immediately righted
Salem Village March. 24'th 1692
The Rever't Mr. Samuell Parris being desired to take in wrighting the Examination of Rebekah Nurse hath Returned itt as aforesaid
Upon heareing the afores'd and seeing what wee then did see together with the Charge of the persons then present—wee Committed Rebekah Nurse the wife of Francis Nurse of Salem village unto theire Majest's Goale in Salem as pa Mittimus then given out, in order to farther Examination
John Hathorne }
} Assists
Jonathan. Corwin}
EVIDENCE FOR NURSE
(Petition for Rebecca Nurse)
We whose names Are hearunto subscribed being desired by goodman Nurse to declare what we knewe concerning his wives conversation for time past: we cane testfie to all whom it may concerne that we have knowne her for: many years and According to our observation her: Life and conversation was According to her profession and we never had Any: cause or grounds to suspect her of any such thing as she is now Acused of
Israel Porter, Daniell Andrew, Elizibeth Porter, Sara Andrew, Edward Beshep Aen, Jonathan Putnam, Hana Beshep, Lydia Putnam, Joshua Rea, Walter Phillipps Senior, Sara Rea, Nathaniel Felton Sen, Sarah Leach, Margaret Philips, John Putnam Sen., Taitha Phillipps, Rabeckh Putnam, Joseph Houlton Junior, Joseph Hucheson Sen, Sam'll Endecott, Leda Hucheson, Elizabeth buxston, Joseph holten sen, Samuel aborn senr, Sarah holten, Isaack Cooke, Benjaman Putnam, Elisabeth Cooke, Sarah Putnam, William Osborne, Job Swinerton, Hanah Osborne, Ester Swinerton, Daniell Rea, Joseph Herrick Sen, Sarah Putnam, Samuell Sibley, Joseph Putman, Hephzibah Rea
(Nathaniel Putnam, Sr. for Rebecca Nurse)
Nathaniell Putnem Senior being desired [TORN] by francis nurse sen'or to give & informa[TORN] of what i could say concerning his wifeS [TORN] and conversation: if the above sayd [TORN] known this sayd above sayd woman fou [TORN] years & what i have observed of her human [TORN] frailtye excepted: her life and conversation hath [TORN] been acording to her profession: & she hath [TORN] brought up a great family of children & educated [TORN] well soe that there is in some of them apparent s' [TORN] of godliness: i have known her differ with her neig [TORN] but i never knew nor heard of any that did accus [TORN] of what she is now charged with
(Israel Porter, Elizabeth Porter, Daniel Andrew and Peter Cloyce for Rebecca Nurse)
We whos nams Are under written being desiered to goe to goodman nurs his house to speeke with his wife and to tell her that several of the Aflicted persons mentioned her: and Accordingly we went and we found her in A weak and Lowe condition in body as shee told us and had been sicke allmost A weak and we asked how it was otherwis with her and shee said shee blest god for it shee had more of his presents in this sickness then sometime shee have had but not soe much as shee desiered: but shee would with the Apostle pres forward to the mark: and many other places of scriptur to the Like purpos: and then of her owne Acord shee began to speek of the Affliction that was Amongst them and in perticuler of Mr Parris his family and how shee was greved for them though shee had not been to see them: by Reason of fits that shee formerly use to have for people said it was Awfull to:behold: but shee pittied them with: all her harte: and went to god for them: but shee said shee heard that there was persons spoke of that wear as Innocent as shee was shee believed and After much to this purpos: we told her we heard that shee was spoken of allsoe: well she said if it be soe the will of the Lord be done: she sate still awhille being as it wear Amazed: and then shee said well as to this thing I am as innocent as the child unborne but seurly shee said what sine hath god found out in me unrepented of that he should Lay such an Affliction upon me In my old Age: and Acording to our best observation we could not decern that shee knewe what we came for before we tould her
(Israel porter, Elizabeth porter)
To the substance of what is Above we if caled there too: are ready to testifie on: oath Daniell Andrew Peter Cloys
(John Putnam, Sr. and Rebecca Putnam for Rebecca Nurse)
the testimony of John Putnam and Rebecke his wife saith that our son in law John Fuller: and our daughter Rebecke Shepard did both of them by #[a most] (a most violent death and did acting vere strangly at the time of ther death) farder saith that wee did Judg then that thay both diead of a malignant fever and has no suspiction of wichcraft of aney nether Can wee acues the prisner at the bar of any such thing
EVIDENCE AGAINST NURSE:
(Sarah Holton v. Rebecca Nurse)
The Deposition of [Sara Holton] Reluque of Benjamine Holton Deceased who testifieth and saith that about this time three years my deare and loveing usband Benjamine Holton Deceased: was as well as ever I knew him in my life: tell one saterday morning Rebekah Nurs who now stands charged for wicthcraft. came to our house and fell a railing at him because our piggs gott into hir field: tho our piggs were sufficiently yoaked and their fence was down in severall places: yett all we could say to hir could no ways passifie hir: but she continewed Railing and scolding agrat while together calling to hir son Benj. Nurs to goe and git a gun and kill our piggs and lett non of them goe out of the field: tho my poor Husband gave hir never amissbeholding word: and within ashort time affter this my poor Husband goeing out very early in the morning: as he was a coming. in againe he was taken with a strainge fitt in the entery being struck blind and stricken down two or three times so that when he came to himself he tould me he thought he should never have com into the house any more: and all summer affter he continewed in a languishing condition being much pained at his stomack and often struck blind: but about a fortnight before he dyed he was taken with strange and violent fitts acting much like out poor bewicthed parsons when we thought they would have dyed and the Doctor. that was with him could not find what his distemper was: and the day before he dyed he was very chearly but about midnight he was againe most violently sezed upon with violent fitts tell the next night about midnight he departed this life by a cruel death Jurat in Curia (Reverse) Sarah Holton
(Ann Putnam, Sr. v. Rebecca Nurse, Sarah Cloyce, Bridget Bisho, and Elizabeth Cary)
The Deposition of Ann Putnam the wife of Thomas Putnam who testifieth and saith that on the first day of June 1692. the Apperishtion of Rebekah Nurse did again fall upon me and almost choak me and she toald me that now she was come out of prision she had power to afflet me and that now she could for she tould me she had kiled benjamine Holton and John fuller and Rebekah Shepard: and she also toald me that she and her sister Cloyes and Ed: Bishop wife of Salem village had kiled young Jno putnams Child because yong Jno putnam had said that it was no wonder they were witches for their mother was so before them and because they could not aveng themselves on him they did kill his child: and immediatly they did appere to me: six children in winding sheets which caled me aunt: which did most greviously affright me: and they tould me that they ware my sisters Bakers children of Boston and that gooddy Nurs and Mistris Cary of Charletown and an old deaft woman att Boston had murthered them: and charged me to go and tell these things to the magestrats or elce they would tare me to peaces for their own blood did crie for vengance also their Appeared to me my own sister Bayley and three of hir children in winding sheets and tould me that gooddy Nurs had urthered them
PETITION OF NURSE
(Rebecca Nurse Petition to the Court)
To the Honour'd Court of Oyer and Terminer now sitting In Salem this 28 of June An'o 1692 The humble petission of Rebecca Nurse of Salem Village humbley Sheweth That whareas sum Women did sarch your Petissioner At salem, as I did then conceive for Sum Supernaturall Marke, and then one of the s'd women which is known to be, the Moaste Ancient Skillfull prudent person of them all as to Any such Concerned: Did Express hirselfe to be: of A contrary opinion from the Rest And Did them Declare, that shee saw nothing In or Aboute yo'r Honors poare pettissioner but what Might Arise fron A naturall Cause: And I then Rendered the said persons asuficient knowne Reason as to My selfe of the Moveing Cause thereof: which was by Exceeding weakness: decending partly from an overture of Nature and difficult Exigences that hath befallen me In the times of my Travells: And therefore Yo'r pettissioner Humbley prays That you Honours would be pleased to Admitt of sum other women to Enquire Into this Great: Concerne, those that are Moast Grand wise and Skillful: Namely Ms: Higginson sen'r Ms Buckstone: Ms: Woodbery two of them being Midwives: Ms: Porter together with such others, as may be choasen, on that Account: Before I am Brought to my triall: All which I hoape yo'r Honours: will take Into yo'r prudent Consideration, And findit requisute soe to doe: for my Lyfe Lyes Now In yo'r Hands under God: And being Conscious of My owne Innocency – I Humbley Begg that I may have Liberty to Manifest it to the wourld partly by the Meanes Abovesaid. And yo'r Poare pettissioner shall Evermore pray as In duty Bound &c//
Rebecca Nurse
hir marke
JUROR'S STATEMENT CONCERNING THE NURSE TRIAL
(Declaration by Thomas Fisk, Juryman)
July 4, 1692. I Thomas Fisk, the Subscriber hereof, being one of them that were of the Jury the last week at Salem-Court, upon the Tryal of Rebecka Nurse, etc., being desired by some of the Relations why the Jury brought her in Guilty, after her Verdict not Guilty; I do hereby give my reasons to be as follows, viz. When the Verdict not Guilty was, the honoured Court was pleased to object against it, saying to them, that they think they let slip the words, which the Prisioner at the Bar spake against her self which were spoken in reply to Goodwife Hobbs and her Daughter, who had been faulty in setting their hands to the Devils Book, as they have confessed formerly; the words were "what, do these persons give in Evidence against me now, they used to come against us." After the honoured Court had manifested their dissatisfaction of the Verdict, several of the Jury declared themselves desirous to go out again, and thereupon the hounored Court gave leave; but when we came to consider the Case, I could not tell how to take her words, as evidence against her, till she had a further opportunity to put her Sense upon them, if she would take it; and then going into Court, I mentioned the aforesaid, which by one of the Court were affirmed to have been spoken by her, she being then at the Bar, but ade no reply, nor interpretation of them; whereupon these words were to me principal Evidence against her.
Thomas Fisk.
---
There you have it.  Some of the stories you run into doing family history research are amazing, and that is what keeps me going.